When I heard the name 'Hamari Muskaan' for the first time I thought that the name itself suggested that my work would be to bring smiles on the faces of children I would be working with. When I visited the Seagull office and was told that my work as a volunteer would be to narrate stories to the children, I realised that my first thoughts were not wrong.
Through my stories I had to convey the lessons of life and at the same time make sure it was entertaining and bought smiles to their faces. However I was soon proved to be wrong. In fact it was the other way round. It was the kids who bought a smile to my face every Friday when I went there for the sessions.
One day I praised Tina for the frock she wore to class. 'Koto shundor laagche Tina', I said. She gave a shy smile and said nothing. From that day onwards Tina wore her best frock to class and flaunted it.
Tushar, another one of my students knows everything about what is happening around in the world. I have so much to learn from him! Mumpy is a cute little girl with a very sweet voice. . .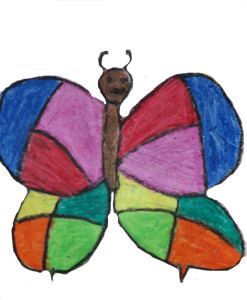 All these children who are in my class hold a special place in my heart now. One thing that I discovered about these children is that they love to sing and dance. I sometimes give them the last 10 minutes of the class to do whatever they feel like doing. They once showed me an entire dance performance on a popular song which was quiet impressive. Apart from that they also know how to draw and colour well. Tushar once depicted an entire story that I narrated in class on a single sheet of paper through his drawing skills.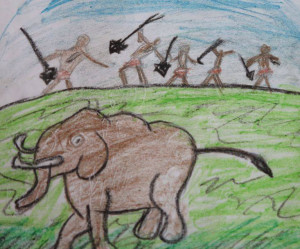 These kids possess skills and talent in abundance. I feel privileged to work with them. My motive when I go to class is to tell them something which touches their heart and stays with them forever so that it can help them take decisions in their life in the future. Even if one single child is able to use my lessons in his/her life, my task here would be fulfilled.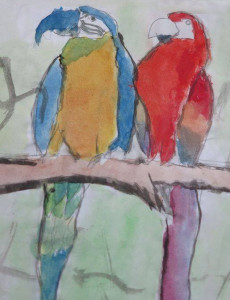 These kids are a special part of my life now. I wait for Fridays to come so that I get to meet them.This journey started from the Seagull office which is more of a beautiful art gallery and I hope there is no end to this journey. Teaching these kids makes me feel good about myself. At the age of 22 when I am busy and engaged with the hundreds of  things happening in my life, taking out that one hour in a week gives me immense pleasure. It is more like a therapy to me.
– Surabhi Beriwal
Surabhi is a volunteer storyteller at Hamari Muskaan, North Calcutta