Storytelling is an art that can be adapted to whichever medium the storyteller chooses. Music, art, theatre, film. And so many more.
This year, for Golpo Mela—The PeaceWorks Storytelling Festival, we chose to depart from the format that we had used in the last few years and showcase film as a medium of storytelling. After some brainstorming we decided on screening 'Double Feluda'—a recent release, based on two of Satyajit Ray's Feluda stories— Samaddarer Chabi and Golokdham Rahasya (roughly translated as Samaddar's Key and the Mystery of Golokdham respectively) and four animated short films—unlike those readily available on cable television. Each of these films follows very different styles of storytelling—in terms of technique used, location and language, something that we wanted the children to experience.
On 24 January, over 280 children from the nine centres that we work in with our Share Stories Open Minds project, accompanied by their centre teachers and coordinators arrived at Indira Cinema, right in time for the 10 a.m. show of 'Double Feluda'. Many had been to a cinema hall before and many hadn't.
Wide eyes, bright smiles and waving. An impromptu jig. Settling into the big, comfortable seats.
Indira Cinema was a venue that told a story of its own. Newly renovated, showcasing a history of not just Bengali cinema, but also Bollywood of yesteryear—old posters, memorabilia—one of the last remaining stand alone theatres in the city. Volunteers with the project had spent hours before Golpo Mela adding artwork created by the children—many of them inspired by stories—on the walls and pillars in the building, adding to the festive feel.
After the screening, and a short vote of thanks from the folks at Calcutta Round Table 4 who supported the event, food packets were handed out to the children. Stomach's full, energy levels high, the children went to play games at the stalls set up by students of Modern High School, Chowringhee High School, EduAims and PeaceWorks volunteers. The games were all based on stories, be it from Panchatantra or Chota Bheem, a particular hit being the Chota Bheem twister! Colouring sheets based on stories were also handed out to the children.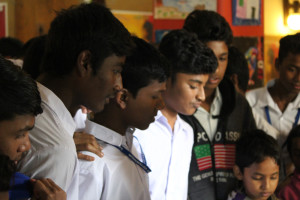 By turns, groups of children went to a room where a projector and screen had been set up to watch the animated short films. These films included Origami by ESMA and Poulette's Chair by Hiroyasu Ishida. Before each screening, the children were given an introduction to what kind of films they were going to see and how each film had a story—perhaps a simple one, but with beautiful messages.
'Didi, look, I got gifts.'
A young boy whispered to me, showing me his plastic packet filled with treasures—sketch pens, packets of biscuits, a file.
Games were played, gifts won by everyone, films watched. But one surprise remained. There were balloons for everyone—organised by two of the volunteers and their friends. Lined up, with colourful balloons in their hand, the children waved goodbye. Until next time!
–Paroma Sengupta