Jana Natya Manch (Janam) spent an eventful few days in Calcutta. After two performances in schools, the group spent some time on 26 August with volunteers from the Share Stories Open Minds project and educators from the centres that the volunteers go to.
They first performed Yeh Bhi Hinsa Hai—a play done in typical street play style—on violence against women, followed by a discussion with the 12 participants in the session. Both volunteers and teachers said that it was the depiction of rape in the last scene that affected them the most.
One of the situations portrayed in the play was 'Aurat Number 1'—how expectations society has of women can reach irrational and highly detrimental proportions. A discussion on gender roles followed based on this scene—about restrictions (and expectations) that society places on genders in terms of the roles that they play—at home or in the community. Regardless of what one does at work, at home the roles are clearly defined.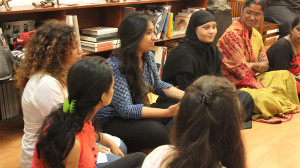 Several other issues surfaced—those that women generally take in their stride without questioning or resisting.
One of the volunteers shared an activity based on gender roles that we engage in with the children of the Share Stories Open Minds. Pictures showing objects such as a gas stove, a comb, a scooter and so on—technically gender neutral objects—are shown to the children and they are told to place these under the category of 'Uncle' or 'Aunty' on separate sheets of chart paper. This is followed with stories on women who have dismissed gender restrictions in terms of occupation or appearance. A discussion amongst the participants and the members of Janam followed—on perceptions and how children are exposed to narrow gender roles throughout their lives and that it is our role as storytellers and educators to not let this metamorphose into bias.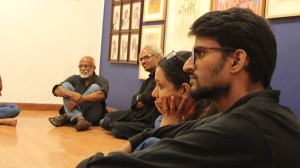 For in the end, regardless of whether we are teachers or college students or actor-activists, we are all storytellers.
– Paroma Sengupta
Janam also presented two public performances at Padatik, Calcutta. The plays—Ujle Safed Kabootar, Yeh Bhi Hinsa Hai and The Last Letter—were performed in front of a packed audience.