We started the class with some fun exercises—which included imitating actions— which resulted in all sorts of hilarity. After much laughter and funny noises and faces, we started with storytelling. The games were an ideal warm-up and needed because sometimes the children are tired after long school hours.
Paroma started with a story of brave girl named Munia who stayed in a village along with his parents and her brother, Kallu. She had a short temper and used to get angry at littlest of things. This characteristic was deliberately evolved—using actions and sounds— so that later we could engage a discussion on this topic. Munia went to Mango Ram, who had acres of land on which he grew different kinds of mangoes to ask for one mango. He refused. The resulting escapades of Munia, her brother and their friends were narrated to the children. The story involved a ghost—Amba Bhoot who turned out to be Mango Ram himself! It was revealed that Mango Ram trying to protect his trees by scaring everyone with the story of Amba Bhoot. This story was narrated to them to show how courageous Munia was. This was based on a story by Subhadra Sen Gupta.
The next story was 'Birpurush'—based on the poem by Rabindranath Tagore. This was about a little boy who protected his mother from dacoits in the middle of a forest. . .an incident that later turned out to be a dream.
When the children were asked if this incident could be real, half of the class said yes and the other half said that this does not happen in real life.
After narrating both the stories Paroma asked them if they were in Birpurush's place what would they do? Some of them said that they will fight back. One of the children said if someone beats him, he will also beat him back. Paroma then asked them what is it that makes them really angry. One girl said that she gets angry when her mother scolds her. Another said that she gets angry when she is falsely accused of something—this appears to make most of the children angry. This discussion will be taken up again in the next class.
After the discussion an activity was planned for the children. They were divided in groups of five. Two of the groups decided to draw and colour a scene which they imagined while listening to the story of Munia. Other two groups had to draw and colour a scene which they imagined after listening to the story of Veerpurush. Each art work had to be a result of group activity—decisions about what to draw and who would do what, had to be made as a group. Initially I noticed that in all the groups there were two or three children doing the work and but after a while everybody got involved. They developed a sense of team work.
In one of the groups, three of the younger children did not understand the story of Munia so I explained the story again and asked them to draw something but they were reluctant to do so. Then I drew a mango and named it 'Rupsha Aam' . They found this hilarious and one of the little ones drew another mango just beside mine and named it as 'Prince Aam'—naming the mango after himself. This encouraged his friend and he drew another mango and named it 'Arjun Ram Aam'. Later, I noticed them participating in the colouring activity. It was beautiful to see how everyone was working together.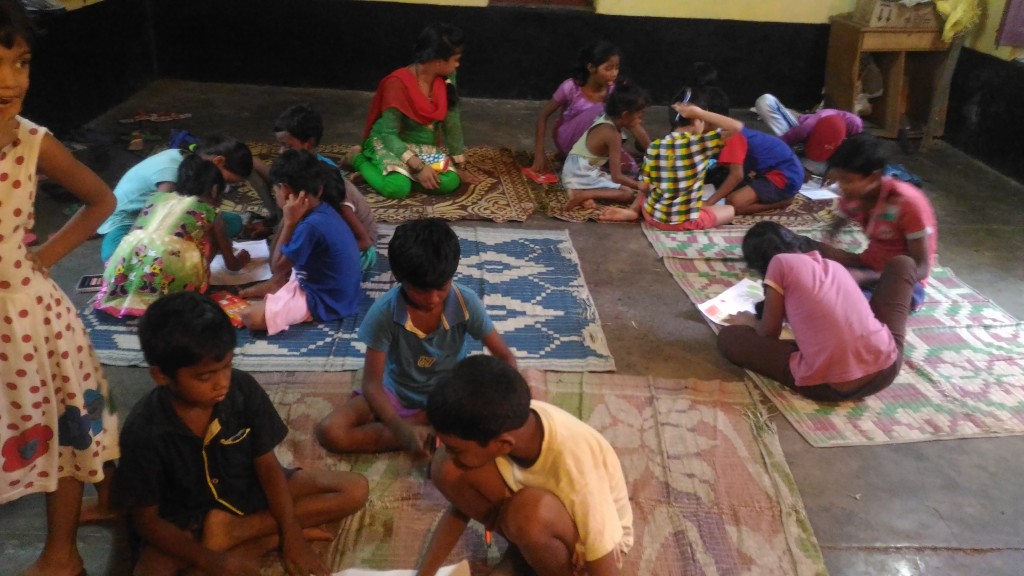 Another child drew a house and coloured it blue so some of his started teasing him saying his house has been flooded. I told them that how my house is also blue in colour but it's not flooded. They immediately stopped teasing him. The child came up to me and said, 'Didi, I will colour the borders of the house then it will look good. Thank you for helping me.' I smiled and asked him to continue with his colouring.
Another child was not interested in either drawing or colouring but was making structures with the sketch pens. He first made a structure of a pichkari then told me that it can also be considered a gun. Then he made a circular structure so I suggested that it can be called a pair of binoculars, explaining to him what that means. This made him very happy and after awhile he called that same circular structure a wheel. I personally love this photo.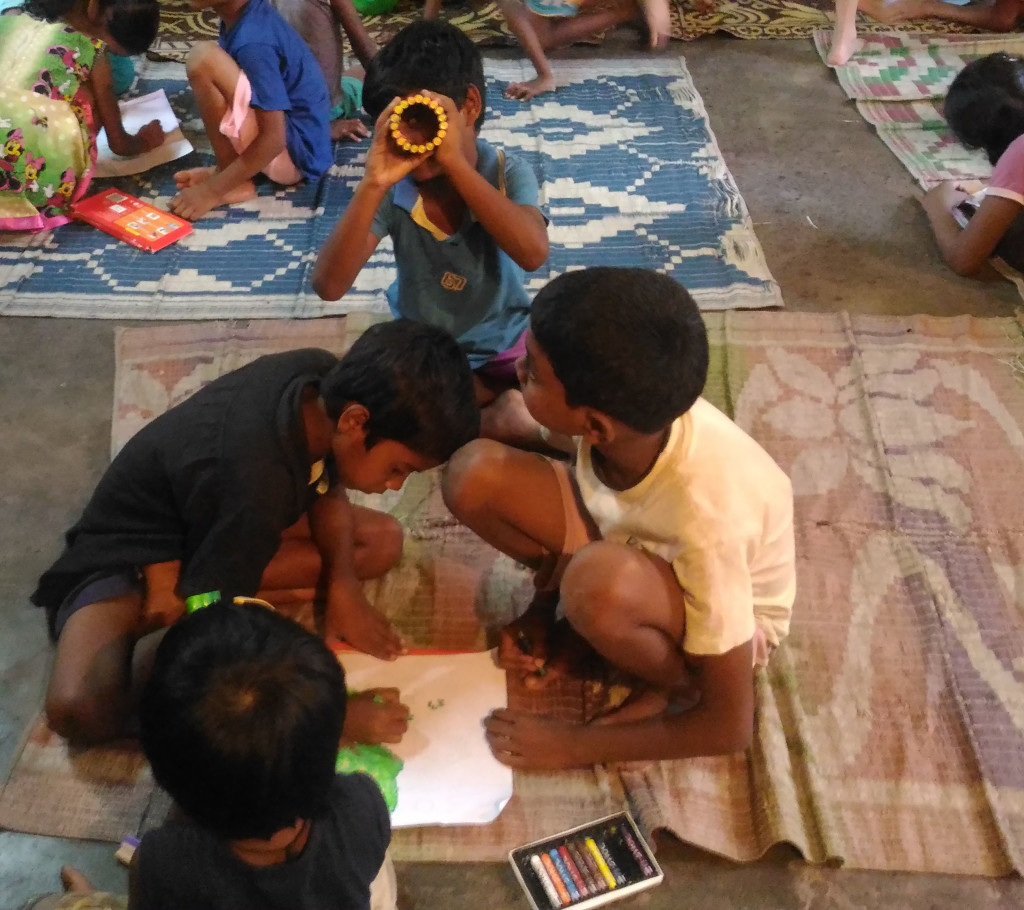 These children are bright, enthusiastic, engaging and creative. At the end of the class they waved us goodbye with lot of warmth.
– Rupsha Paul
Intern
---
This session was on 12 July. There were 18 children on the day.