Keynote address
From National Culture to Cultural Nationalism
Sadanand Menon
Sadanand Menon is adjunct faculty, Asian College of Journalism, Chennai, IIT Madras and Presidency University, Kolkata.
Sadanand Menon elucidated how the initial idea of national culture morphs into the problematic of cultural nationalism. The idea of nationalism, which precedes the nation itself, constructs itself around the axes of cultural and politics till eventually the nation itself becomes a moral idea. Moving away from democracy, the idea of cultural nationalism spews constant agitation in civil society, evacuating the idea of political rights to replace it with the idea of cultural rights. In this imaginary homeland which is under constant attack from imaginary enemies, antiquity is displaced by a tranquillity which avoids hybridity while adopting categorisations reminiscent of orientalism—an idea that he explained by drawing on motifs found in popular Indian cinema. He spoke about the appropriation of cultural practices found in the lower stratas of society by the upward classes and their consequent gentrification. He also discussed the anxiety of nationalism reflected in the discourse promoted by the state controlled media.
The ideology of national culturalism, he assured, is not dependent on the ideology of the state power. It is instead, subterranean, exhibiting Durkhemian long during, persisting like Camus's plague.
Following the keynote address, Prof. Arun Bandyopadhyay, Department of History, University of Calcutta delivered a special paper written by Dr. Irfan Habib.
Session 1. In Conversation
Rajni Bakshi and Gulan Kripalani
Rajni Bakshi is Gandhi Peace Fellow at Gateway House. Gulan Kripalani is a transformational leadership development facilitator and development communications professional.
In a conversation that delineated the idea of patriotism from the idea of nationalism before going to explore the difference between desh (country) and rashtra (state), Rajni Bakshi and Gulan Kripalani also explored the idea of listening to and respecting the other.
Drawing on Ashish Nandy's idea of patriotism as a non ideological sense of bonding, Bakshi explained patriotism as a sense of belonging with what one has grown up with, a sense of belonging which is not competitive but is akin to the bond one shares to things such as the mango tree in their grandfather's garden. Nationalism, on the other hand, is all about a sense for power and lacks the ambiguity inherent in patriotism, instead adopting a sense of insecurity and competition with the other. Our present, she stressed, is a continuation of the aggressive nationalism of the nineteenth century and the burdens of the failed Indian state. Discussing the Gandhian concept of swaraj, she mentioned how he conceptualised it as a then member of the British empire, and that swaraj to him was not attaining freedom from the British but finding control over one's own self. The problem with the current use of Vasudeva Kutumbaka, she insisted, was not in the concept in itself, but in the reductionist usage of the same. Envisioning it as an aspiration instead would be a better approach to the term. Of desh and rashtra, she said she found desh in the cadence of language, the food, the music of a space—that which people related to, while rashtra was merely the geopolitical entity. Kripalani added that perhaps it was a failure of our imagination that very few have been able to grasp the meaning of Vasudeva Kutumbaka without incorporating a sense of othering. Bakshi went on to illustrate that in the spectrum of humanity, stretching from people such as Mahatma Gandhi at one end and those advocating genocide at the other, the bulk of humanity located centrally on the spectrum is easily swayed by the atmosphere of the times. They also discussed the enforced political correctness in educational institutions, which at times encroaches on the academic discussion pertinent to the intellectual space of the classroom while Kripalani commented on the unwillingness in a post-independence India to engage in a real way to make a difference.
The discussion concluded with the question of the necessity of engaging with the other with the awareness that we too are someone's other.
Session 2. Nationalism and the School Curriculum
Panel Discussion
Chair: Devi Kar, Director, Modern High School for Girls
Panelists: Anil Sethi is professor of history and history education at Azim Premji University. Nilanjana Gupta is professor of English at Jadavpur University. Joyeeta Dey is a researcher at Pratichi Institute.
Prof Sethi began his talk by placing before the audience three propositions. Nation-state and nationalism has earned flak in recent times, being equated with tyranny and oppression, and of course, intolerance. That is a fact, said Prof Sethi, and yet sovereignty or the right to rule oneself continues to be pegged to the nation state not withstanding the negative side of nationalism. His second proposition was that curricular material and curriculum are almost always conceived in nationalistic frames. The questions that then arise are who decides that frame, whose knowledge is being used to develop the curriculum and so on. Also, can the NCERT subvert nationalism? He went on to discuss the definitions and categories of nationalism and their relevance in school textbooks. After 2005 the social sciences books speak about diversity and discrimination, thus talking about constitutional nationalism.
Nilanjana Gupta spoke about all histories being basically narratives—broadly the connect between history and literature—stories presented in a sequence. The main difference perhaps being that history is based on cause and effect. Why then is history teaching such a controversial and difficult topic? Gupta suggested that social frameworks within which the narratives of history work become fragmented because these social frameworks are multiple and not shared publicly. History takes on different meanings. Collective memories can be divided into two categories: products, statues, buildings; and practices—for instance days we commemorate. She also spoke about how one can distinguish between history and representation—for example, in serials based on religious stories.
Joyeeta discussed the writings of Mahashweta Devi—who had written extensively on the concepts of nationhood and nationalism—and how it is represented in language textbooks of the West Bengal curriculum. She spoke about her experiences interacting with officials in the state department, teachers in state board schools and students, discussing with them how Mahashweta Devi and her writing is perceived. Teachers describe Mahashweta Devi using subdued, often tame language when introducing her to their students—as a writer and a social worker. When asked if their students had heard about her outside of their classroom, teachers said that they have, now that she (the author) has passed away. One teacher said that he does not introduce her politics at all, simply because of the struggle the students have with the language and their ability to express in Bengali.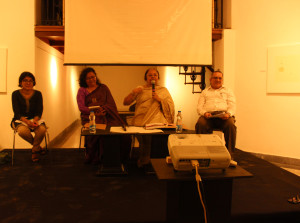 Session 3: Presentation on Euroclio, the European Association of History Educators
Catharina Veldhuis-Meester is the Euroclio ambassador and former professor, Groningen University.
Euroclio ambassador, Catharina (Ineke) Veldhuis-Meester gave a presentation on Euroclio—its activities and methodologies. Euroclio works on teacher training and designing supplementary material that attempts to counter nationalistic fervour in textbooks, particularly in countries in Europe where there has been an outburst of nationalism in the recent past.
She raised the question of whether history is a symbol of pride or a symbol of pain—where nationalistic textbooks focus mostly on the pride and very little, if nothing, on the pain. For instance, in Lithuanian textbooks, involvement of Lithuanians in war is glossed over. Veldhuis-Meester went on to describe Euroclio's mission, which is to 'support the development of responsible and innovative history, citizenship and heritage education by promoting critical thinking, multi-perspectivity, mutual respect, and the inclusion of controversial issues'. They do this by working with educators closely and building capacity, equipping them with the necessary tools.
Session 4: Nationalism and Identity
Screening of a trilogy of short films followed by a conversation between the filmmaker Bani Abidi and Prateek Raja of Experimenter.
The News- A mock news program being broadcast on either side of the Indo-Pak border. The Pakistani and Indian news presenters relate separate versions of the same news event. The script, adapted to sound like a news event is based on a common joke about an Indian and a Pakistani.
Anthems- addressing the role of music in the creation of patriotic sentiment, the video shows a split screen image of two young women dancing to popular Indian and Pakistani songs.
Mangoes- Two expatriate Pakistani and Indian women sit and eat mangoes together and reminisce about their childhood. An otherwise touching encounter turns sour when they start comparing the range of mangoes grown in either country, a comment on the heightened sense of nostalgia and nationalism that exists in the Indian and Pakistani diaspora.
The screening was followed by a dialogue between Bani Abidi and Prateek Raja of Experimenter. They began by discussing the role of art in education and the response that Abidi has had from educators who have seen her work—a satirical, entertaining format of presenting ideas and concepts. Abidi spoke about her own experiences growing up in Karachi, Pakistan and then going abroad to study. Being abroad sort of acts as the great unifier, where Indians and Pakistanis came together because of the sheer similarities—in terms of food, music and language—between the two cultures.
Abidi spoke of her works as debunking the idea of a national border as a symbol of identity and her personal feeling that language, food, music and other such elements being more representative of identity as opposed to religion. She also spoke about her films taking a look at our personal foibles and also looking at the moments where as young people, one has to look hard at ones own identity and allegiance—perhaps moving away from the highly jingoistic histories that one has studied in school. Abidi spoke about multiculturality as she had experienced it, about nationalistic sentiments on either side of the border and how it is difficult to place satire and humour in a scenario such as this.
For details of the speakers, please click here.
– Anushka Halder and Paroma Sengupta