When I started storytelling sessions at the Jorabagan police station in November 2017, the children appeared reserved except for a handful who were enthusiastic right from the beginning. I worked on this over the months that I conducted sessions and noticed that more and more children became involved.  Throughout the sessions, I combined storytelling with memory games, fun spelling exercises, art and craft and extempore. I tried to use material that could be recycled or up cycled during the craft sessions.
On some of the days, I asked the children to narrate stories. All the stories which I shared with them dealt with values like kindness, charity, justice, compassion and selflessness. What I observed was that the kids enjoyed stories with comic elements and were quick to interpret the morals of the stories that had these elements. All of them liked activities like origami and drawing. While working as a team, the children showed friendly competitiveness. Overall, the children at the centre were very well behaved and involved. Even the teachers at the centre were very cooperative.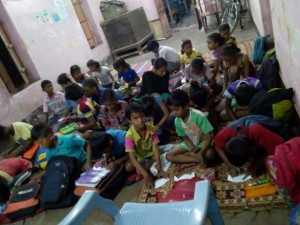 My experience at the centre has been very positive and it has also reaffirmed my faith in the fact that small efforts can yield great results and bring smiles to so many faces. I would like to thank PeaceWorks and The Seagull Foundation for the Arts for having given me this opportunity to impact so many lives in a short time.
– Swara Thacker
Volunteer, Jorabagan police station
Swara worked with 35-40 children at the centre, with an age group of 4- 14 years.