'What are your thoughts about Pakistan?' Anam asked the assembled students. There was only a brief hesitation, before one of them piped up.
'Cricket! '
The conversation between Anam Zakaria, author and educationist and eleven students from Chowringhee High School (classes 9 and 10) and two of their teachers took place on 30 June.
'What comes to your mind when you hear the word Partition?'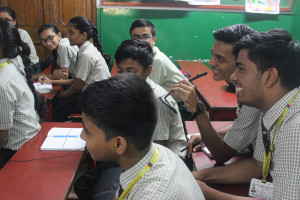 Most of the students were familiar with the Partition that took place right after 1947, one of them mentioning that his forefathers were originally from Karachi. They all agreed that politics was the sole reason behind the partition, although a few said that there was religious disharmony. However, barring one or two students, they were unaware about the 1971 partition. One of them said that he learned about 1971 after doing his own research on the Internet. One of the teachers shared stories she had heard from her family of 1971, also explaining that the students followed the West Bengal board, where they were taught about 1971 only in Class 10 and not in much detail at all.
Anam asked the students what they know about the conflicts between India and Pakistan. While the students were unaware of the past conflicts, some of them were familiar with the recent surgical strikes (reportedly conducted by India in 2016-17) and the ongoing conflict in Jammu and Kashmir. Their source of information was the news and social media. One of the students added that one had to be careful about social media because of fake news.
The students, speaking with someone from across the border for the very first time, had a lot of questions for Anam. Taking forward from the earlier discussion on media, one of the students asked Anam why the media often portrays Pakistan negatively. The media often gives only one side of the picture, replied Anam. Opinions are often very biased and it is very important that we learn from each other. Anam spoke of her experiences working with students in Pakistan and how she came across many people with different opinions about India. She also spoke about her own family having experienced Partition and how in the course of her research for her books she discovered more stories of coming together and rescues than stories of violence.
The students also asked her about Eid celebrations in Pakistan and about her opinions and feelings about India.
One doesn't think about it, but it is true that people in India very rarely, if ever, meet someone from Pakistan and vice versa. Opinions are formed entirely on second, third-hand information. This is also true of Bangladesh, given that representation of the various conflicts including the partitions have been incredibly biased in possibly the primary source of information for students—the textbook, although listening to the students today, it seems that the internet might be taking over in that regard!
– Paroma Sengupta
1971 in Classrooms is a series of conversations between Pakistani author, educationist and development professional Anam Zakaria and high school students in Calcutta.