Stories. Why do we tell them? Why do they exist?
Those questions can be answered by using terms like 'oral histories', 'traditions', 'listening skills' and 'pedagogy'. All very valid. At Golpo Mela, the PeaceWorks Storytelling Festival, it is however, much more.
Before the day of the festival, I had visited a centre to help with their on stage performance. One of the students there, whom I had suggested take on a role for the storytelling they would be doing shook her head. ' Didi, I have never done this before.' When I asked her what she meant, she explained—performing in front of an audience. I simply asked her to stick around while I told them the story we had in mind for them. She helped me with my Hindi, often stepping in to explain the story to the others. At the end, she had a huge smile on her face.
' Didi, I can try.'
In its fourth year, Golpo Mela was celebrated on the 18th of November at Victoria Memorial. This festival, held in collaboration with the Victoria Memorial Hall, Kolkata, is a unique way of celebrating Children's Day.
This year, Deeptha Vivekanand and Nisha Abdulla from Ever After Learning, Bangalore were with us. Storytellers, performers and all round fun people; they kicked off proceedings at 11 a.m. after a few words from Dr Jayanta Sengupta, Secretary and Curator, Victoria Memorial Hall. Their audience were children from Modern High School for Girls, Chowringhee High School, Apeejay School, Orient Girls Shiksha Kendra and Kailash Vidyamandir. A story from China had the children vying to see whose name was the longest, and an action story had the entire audience waving their arms and clicking along merrily.
At noon, the on stage performance by children from the centres that PeaceWorks conducts the Share Stories Open Minds and the Arts education programmes began. We started with children from the Bhawanipore centre reciting a poem on Children's day. An ideal way to begin! The children from Hamari Muskan were up next. A delightful skit presented with great confidence and very innovative props followed. Based on honesty being an important value, the little performers drew cheers from the crowd. Children from the Nabadisha centre in Alipore recited two poems. It was lovely seeing the youngest of them take to the stage with so much confidence! Children from the Nabadisha centre in Tollygunge presented a skit on friendship and how one must be true to oneself.
Students from Anandan danced beautifully to a Rabindra Sangeet favourite—'Momo Chitte'. Storytelling by children from Disha Foundation was next. This was done in both Hindi and Bengali, emphasising on the importance of having the courage to tell the truth. The boys from Kailash Vidyamandir recited a poem by Sukumar Roy.
Orient Girls Shiksha Kendra, where PeaceWorks has been conducting an Arts Education programme for over a year presented a skit. Using a poem by the Punjabi poet Pash, this skit spoke of how it is important that we as a society react to injustices that we come across. Next up were the children from the Kalighat Burning Ghat centre. They presented a skit on the importance of education. The tune of the title song from 'Taare Zameen Par'  had some of the audience humming along, and the skit beginning with a depiction of child labour and ending with the child ultimately being able to go to school drew claps from the audience.
The last performance of the afternoon was by the girls from Child Care centre. They sang, and with so much confidence, getting everything exactly right—'Jodi tor daak shune'. Claps and cheers for all our young stars followed.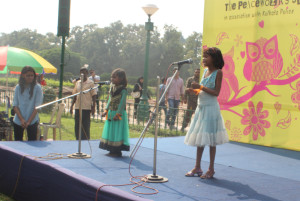 After the performances were over, the children made a beeline for the games stalls. These were put up by La Martiniere for Boys, Modern High School for Girls, Akshar, Apeejay School, Shri Shikshayatan and Chowringhee High School. Shouts of 'lets go play at that stall' and 'lets play first, we can always eat later!' could be heard. There were cheers, high fives and handshakes for all the participants, the older students guiding the younger ones and the teachers shouting words of encouragement. The open-air arts workshop, conducted by Nabendu Sengupta and Arunima Chowdhury had a new addition this time—clay modeling. Very soon, a menagerie of clay animals with a tree or two thrown in the mix emerged.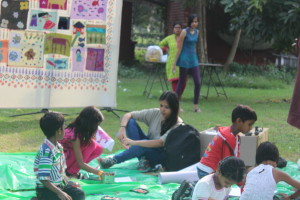 This year on exhibit was artwork by the children from the various centres at My Corner as well as artwork that we had received from students in Karachi as part of the year long Exchange for Change project that we had conducted in collaboration with the Citizens Archive of Pakistan. Lovely drawings of families, cards for teachers, bookmarks and photo frames were on display at My Corner. A visitor who came with her young children was so impressed with some of the drawings that she took pictures of them, so her children could replicate them at home!
After the games had drawn to a close, the children gathered near the stage for another round of storytelling by Deeptha and Nisha. This time the stories were told in Hindi, English and Bengali! One about a very lazy Ox, one about a Rainbow Crow and one about an old man who constantly complained about it being too noisy!
As the celebrations drew to a close and we had said our goodbyes and taken our photographs, there were so many impressions that I was left with. Was it only about the stories? Or was it about learning through stories, being able to get up on a stage and express oneself, feeling the euphoria when your audience cheers for you and the camaraderie between youngsters from hugely different backgrounds. For me, it was the knowledge that I was part of the bigger picture.
For isn't this—learning to live with difference?
–Paroma Sengupta