If you are a Social Science school teacher or a B. Ed/ M. Ed student in the subcontinent, this is for you!
Teaching Partition
Call for Best Teaching Practices 
Theme: Partition and its Aftermath 
Click here for details
---
Tuesday, 17 May 2022, 6:30 pm
Victoria Memorial Hall, Conference Hall
(New Library Building) 1 Queen's Way, Kolkata 700 071
Entry through East Gate (opp. St Paul's Cathedral)
Standard Covid protocols to be followed
No entry and parking of vehicles inside the VMH campus
---
Stage of Blood
Naveen Kishore's photographs document the political nature of Manipuri experimental theatre.
By Chintan Girish Modi.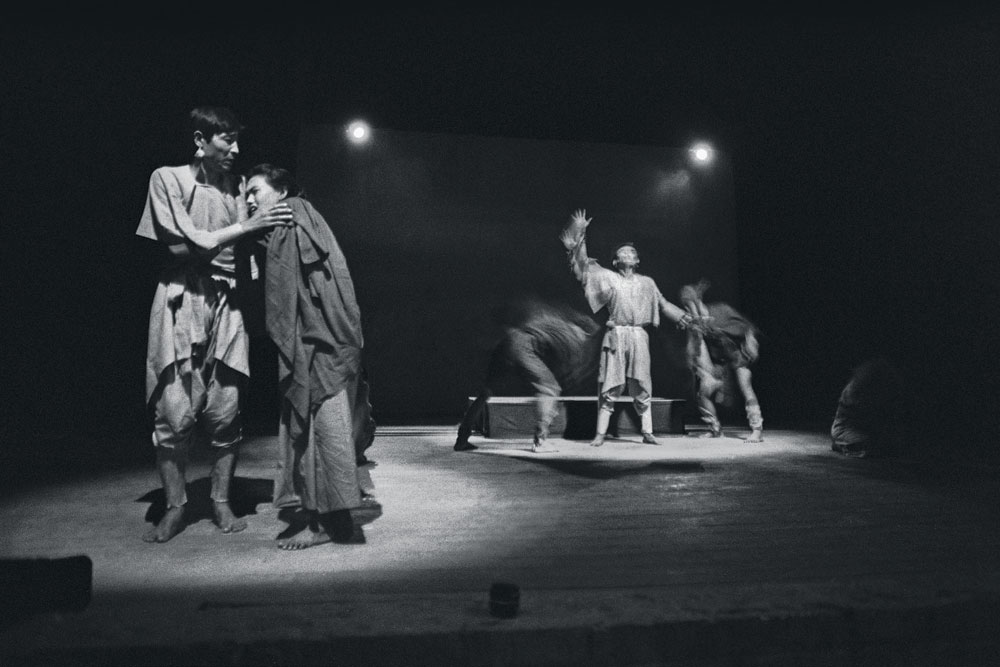 'Kishore's choice of form seems to mirror his politics. In his artist statement, he writes, "The framing is off-tangent. The only way to find a way into the image, the story, the emotion is to choose one of the many points of focus. Never a single point of entry." This recognition of plurality is perhaps the cornerstone of living in a modern democracy with a vibrant civil society.
[ . . . ] He adds, "The idea was not to show them all. We are constantly seeing atroc­ity pictures on social media. They are being beamed at us, and we are growing numb. It was to invite people to slow down, reflect." He succeeds at the task, without a doubt, for the photographs never reduce the people of Manipur to the horrors they have experienced, and the pain they have suffered. They high­light creative practices, and the tension between resistance and restraint.'
Click here to read the entire piece.
To view the exhibition online, click here.
---
The History for Peace Quarterly Newsletter is here!
---
Knotted Grief by Naveen Kishore (and a few words about Seagull Books for World Book Day 2022)
By Joseph Schreiber
'Poetry is, for Kishore, as I understand it, the product of a daily practice of writing—of putting words to the page every day, regardless of available time or present situation. As a friend, it is a discipline he has recommended to me, rather insistently in fact, but I fear I fell off the page some time ago and am only just climbing back on. His poetry has also been shared with those around him, appearing online here and there, even arriving on occasion in my own email inbox. One could even say that poetry tends to inform and permeate his prose and his speech—as if it has become, not a vocation or an exercise so much as a way of being in the world.
Knotted Grief, coalesces around "Kashmiriyat," an extended cycle inspired by the devastating events in Kashmir in recent years. Across 105 spare verses Kishore paints a pained portrait of violence, misery and loss. The flickering light of candles, personified shadows, cold winter winds, bloodied earth, strangled silence—images of war fold in on one another, frozen by the photographer-poet's eye and trimmed to their bare essentials, then revisited again and again.'
---
Celebrating Somnath Hore's centenary, a History for Peace classroom resource!
'But who were these peasants really? How did they live? What were their grievances? What birthed the idea of solidarity and mass protests in them? [. . .]India is said to have gained independence in 1947. But did the script really change for these peasants or was freedom unfree despite a newly independent nation because of their very identity? [. . . .] What if an artist was assigned by the Communist Party of India (the party at the helm of mobilizing these peasant movements at the time) to go with a sketchpad and his diary to closely record these movements towards the end of colonial India and the birth of a new India?'


-from the Introduction, The Peasant Movements through the Eyes of Somnath Hore.

Click here to access Resource.
---
Seagull Books at 40: Founder Naveen Kishore through the eyes of colleagues and collaborators
A two-part series by Jerry Pinto for Scroll.In, celebrating 40 years of Seagull Books.
'My first meeting with Naveen Kishore was marked by an absence. By the time I met him he was the Enigma from Calcutta as the city was then known, the man behind Seagull Books which had brought us our first film scripts, our first play scripts and some heavy hitting non-fiction books and important translations. I expected him to take all the oxygen in the room, to fill up space in the way some publishing legends were wont to do. Instead what I discovered was a watchful withdrawal, more in keeping with a writer or a poet.
Over the years however, I have also discovered a warmth offered in homoeopathic and healing doses; and a friend who can get things done.'
---
Do remember to sign up to our new website, in case you haven't already https://www.historyforpeace.pw
We promise to keep bringing to you critical and engaging content through the years to come.
---