With the critical problems facing our world today, it is increasingly important to prepare our young for deep engagement in their communities; to support them to be effective and reflective agents of positive social change; to give them a sound understanding of Governance, Law, Politics beyond textbook exposure; to equip them to confront ethical dilemmas with value based decisions.

In keeping with the urgent need of our times, History for Peace explored The Idea of Democracy at the annual conference for teaching history in Calcutta in August this year. Over a period of three days close to a hundred participants from across the country comprising of school teachers, university students, civil society actors got the opportunity to engage and discuss issues of relevance with scholars and public intellectuals such as Romila Thapar, Krishna Kumar, Apoorvanand, Sundar Sarukkai, Sudipta Sen, TM Krishna, Arvind Narrain, to name just a few.

The conference now travels to Ludhiana with the support of Takshila Education Society.

The Idea of Democracy – chapter 2
10 – 13 November 2022
Delhi Public School, Ludhiana.
---
The Idea of Democracy| Calcutta: In glimpses
The 6th annual History for Peace conference
Click here for the Conference program.
What is so powerful about the idea of democracy, and why does it resonate so strongly with people's struggles across time and space?
Everything is dependent on political power in the country today—the good, the bad and the indifferent. So, do we just say: We have no access to this power and therefore we give up? Or do we say: We cannot change the political power but, within our little circle of activity, we can do what is possible? And I would say that is the way in which many of us have functioned all our lives. We have not attempted to change the political power. If you are not in a position to fight the political power, then please use your little energy and activity to make half a dozen young people think. The process of thinking involves the process of agency.
—Romila Thapar
In keeping with the urgent need of our times, History for Peace explored The Idea of Democracy at the annual conference for teaching history in Calcutta this August. Speakers at the conference included Romila Thapar, Krishna Kumar, Sudipta Sen, Sundar Sarukkai, Anurag Bhaskar, Apoorvanand, Arvind Narrain and TM Krishna; Teachers' workshops were facilitated by educators Shahnaaz Khan, Shivangi Jaiswal, Smita Bhattacharya and Juraj Varga. Reports coming up soon!
---
40 Years And Counting, The Story Of Seagull Books
by Nilanjana Bhowmick for Outlook.
'Seagull Books—synonymous with publishing serious, meaningful books from across the world in English translation—was borne out of Kishore's desire to document the exciting work around him in the arts, cinema and theatre. "The publisher is an accidental historian, who documents the times in a more tangible form. We started 40 years ago, 'the period of new Indian cinema', when you had filmmakers Mrinal Sen, Satyajit Ray, Shyam Benegal, Adoor Gopalakrishnan and others. Yet, nothing was getting documented because, in purely commercial terms, for a publisher with many mouths to feed, it was not always the first choice to document the arts. But it needed to be done." That someone was him, and he has been doing so for four decades now. On June 20, Seagull Books turned 40.'
---
This week from the History for Peace archives
The Inter-face of Region and Religion
in the Panjab
Romila Thapar
'The doabs were open to the spread of Buddhism, and later of Islam, as happened also in Central Asia, but Puranic Hinduism marked a lower presence. Did pastoralists in the scrubland and the desert, and peasants in the riverine plains of the doabs, find the flexibility of Sufi and Nathapanthi teaching more attractive than the greater rigidity of caste-based Puranic Hinduism of the upland valleys? Urban traders along the main route linking the towns of the foothills might have searched for more overlapping religious thought and practice in the midst of many sects.
What this also highlights is the basic duality in most religious expression in India that continued from early times. Every religion has diverse sects, some breakaways and some add-ons. Every religion has orthodoxy and heterodoxy. A few of the latter aim at opposing orthodoxy, others at competing for status, but most at providing a viable routine for daily living. This may determine whether religion assumes a monolithic theology and institutional structure, or whether it can be more flexible with multiple sects whose existence is conceded although they may not all live harmoniously. I would like to argue that the majority of the people in India have generally preferred the second. This may be because of the close interknitting in particular between religious practice and caste. Where, when and how rituals are performed are indicators of caste. This has greater clarity in some sects than in others. Since religion is a human creation, it must reflect human society.'
Click here to read the entire transcript.
---
Share your Classroom Practices and Ideas with us!
When Professor Romila Thapar discusses the relationship between the evolving trajectory of religious formations and that of geographical regions historically with specific reference to the Panjab, it makes us question the homogeneity of the association of a religion with a space, that we so easily assume today. We would like to hear from you about your reading of other such moments historically in the context of the subcontinent, when a region underwent several lives in terms of its association with religious cultures. Do you address questions around religion in your teaching of history and the social sciences in your classroom? Under what thematic areas and chapters are you able to do this effectively?
To get in touch, write to us at info@historyforpeace.pw or become a member at History for Peace.
---
Stage of Blood
Naveen Kishore's photographs document the political nature of Manipuri experimental theatre.
By Chintan Girish Modi.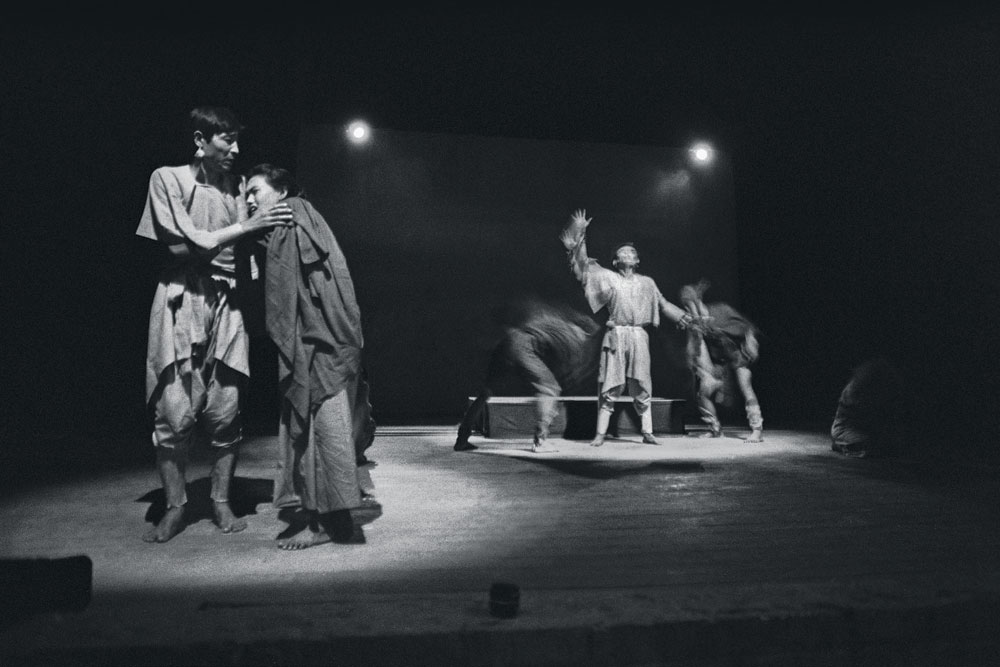 'Kishore's choice of form seems to mirror his politics. In his artist statement, he writes, "The framing is off-tangent. The only way to find a way into the image, the story, the emotion is to choose one of the many points of focus. Never a single point of entry." This recognition of plurality is perhaps the cornerstone of living in a modern democracy with a vibrant civil society.
[ . . . ] He adds, "The idea was not to show them all. We are constantly seeing atroc­ity pictures on social media. They are being beamed at us, and we are growing numb. It was to invite people to slow down, reflect." He succeeds at the task, without a doubt, for the photographs never reduce the people of Manipur to the horrors they have experienced, and the pain they have suffered. They high­light creative practices, and the tension between resistance and restraint.'
Click here to read the entire piece.
To view the exhibition online, click here.
---
Knotted Grief by Naveen Kishore (and a few words about Seagull Books for World Book Day 2022)
By Joseph Schreiber
'Poetry is, for Kishore, as I understand it, the product of a daily practice of writing—of putting words to the page every day, regardless of available time or present situation. As a friend, it is a discipline he has recommended to me, rather insistently in fact, but I fear I fell off the page some time ago and am only just climbing back on. His poetry has also been shared with those around him, appearing online here and there, even arriving on occasion in my own email inbox. One could even say that poetry tends to inform and permeate his prose and his speech—as if it has become, not a vocation or an exercise so much as a way of being in the world.
Knotted Grief, coalesces around "Kashmiriyat," an extended cycle inspired by the devastating events in Kashmir in recent years. Across 105 spare verses Kishore paints a pained portrait of violence, misery and loss. The flickering light of candles, personified shadows, cold winter winds, bloodied earth, strangled silence—images of war fold in on one another, frozen by the photographer-poet's eye and trimmed to their bare essentials, then revisited again and again.'
---
Seagull Books at 40: Founder Naveen Kishore through the eyes of colleagues and collaborators
A two-part series by Jerry Pinto for Scroll.In, celebrating 40 years of Seagull Books.
'My first meeting with Naveen Kishore was marked by an absence. By the time I met him he was the Enigma from Calcutta as the city was then known, the man behind Seagull Books which had brought us our first film scripts, our first play scripts and some heavy hitting non-fiction books and important translations. I expected him to take all the oxygen in the room, to fill up space in the way some publishing legends were wont to do. Instead what I discovered was a watchful withdrawal, more in keeping with a writer or a poet.
Over the years however, I have also discovered a warmth offered in homoeopathic and healing doses; and a friend who can get things done.'
---
Do remember to sign up to our new website, in case you haven't already https://www.historyforpeace.pw
We promise to keep bringing to you critical and engaging content through the years to come.
---