The Seagull Foundation for the Arts has been actively supporting, nurturing and disseminating creative and critical activity in the field of the arts in India, especially fine arts, theatre and cinema, out of a deep conviction and commitment to the belief that the arts are everybody's responsibility and a social commitment.
The only one of its kind multi-faceted arts organization in the country, Seagull fulfils the need of the arts community in a unique manner— promoting collaborative and experimental arts activity across and within disciplines; publishing in the arts and culture and media; making available documentation and critical commentary; working with youth through the arts to address issues of social concern.
Donation Statement
Oct-Dec 2016 July-sept 2016 april-june 2016

OCT-DEC 2018 & JAN-FEB 2019 APRIL-DEC 2019

Accounts 2018-19

Accounts 2017-18

Accounts 2016-17

Accounts 2015-16
---
The Seagull School of Publishing offers a professional course—in Editing and in Book Design—run entirely by practicing publishers, editors and designers who are passionate about the craft of publishing. Hands-on training. Loads of assignments. Conversations with professionals from publishing houses in India and abroad. Field trips to printing presses. Research trips to bookstores. Open-house discussions on current issues. Classes ranging from copyright infringement to e-books to the joys of reprinting War and Peace. Internships. Fellowships for aspiring publishers. And a computer lab featuring the best of equipment and software.
---
Seagull curates and presents art exhibitions—major retrospectives by senior artists as well as the so-called 'non-saleable' aspect or area of an artist's work, which commercial galleries are reluctant to exhibit. Intervening qualitatively and making a positive difference to the aesthetics of the exhibition, the entire undertaking is a partnership between the artist and the organization.
---
A network of educators and members of civil society in the subcontinent, the History for Peace project serves as a platform for discussion, debate and the exchange of ideas pertaining to teaching and learning of history for peace and understanding.
---
An initiative that aims to strengthen values of mutual coexistence and respect for all communities. Conceived as a programme which grounds itself in the arts and culture, PeaceWorks works within the area of civil society and education.
Support PeaceWorks. Donate NOW. click here to find out more.
Seagull Books (estd 1982) has been crafting books with an eye to both exceptional content and radical design. What began as an instinctive and highly risky business of publishing books—books on theatre, visual arts, alternative cinema, philosophy, culture—continues to be a passionately felt need of the hour: manuscripts that need to see the light of day, to reach a readership, to stimulate minds, to change outlooks.
Announcing The Seagull Library of German Literature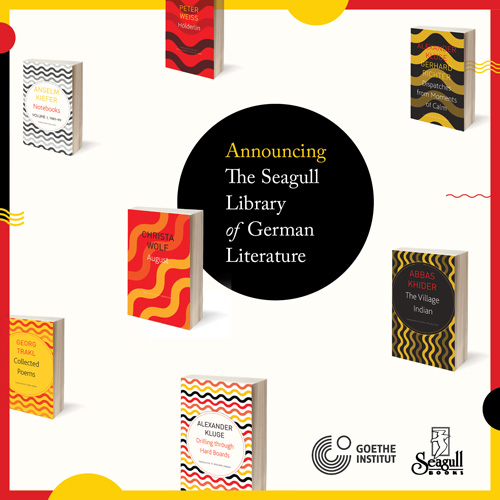 The only one of its kind thatre journal, STQ—published between 1994 - 2003—approached theatre and performance as a social phenomenon rooted in and growing out of specific cultural and historical contexts. In keeping with this, STQ places a strong emphasis on generating original material and in retrieving and preserving oral histories of workers and performers, of indigenous performing traditions as well as 'modern' theatre, through in-depth first-person accounts.